Engineering the Future through Robotics
We are redefining the future of robotics and autonomous systems with tailored innovations that improve the efficiency and reliability of your business. We collaborate with our technology partners to develop robotics and autonomous systems that meet the needs of various industries including logistics, manufacturing, healthcare and hospitality, as well as public safety and security. Our robotics solutions seamlessly integrate with your operations, improving efficiency and safety for your business.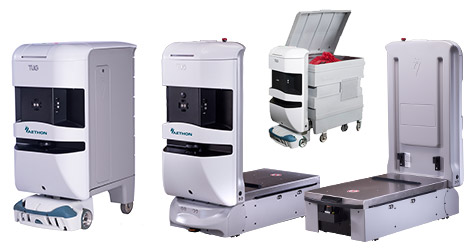 What We Do
Healthcare Robotics Solutions
Autonomous mobile robots (AMRs) from Aethon are used within hospitals and healthcare settings to automate delivery and material handling needs.  This technology enhances the efficiency and safety of the staff and allows them to focus on the most important aspects of their job – patient care and service.  It also assists with preparedness for times when the hospital staff is heavily utilized. Aethon's AMRs securely deliver pharmacy medications and laboratory specimens, transport carts of meals, haul clean linen and remove trash and soiled linen.  They will move up to 635kg. These AMRs have become invaluable assets at hospitals and make more than five million deliveries each year.

Learn more about Healthcare Robotics Solutions
Hospitality Robotics Solutions
Autonomous mobile robots (AMRs) from Aethon are used within hotels and hospitality settings to enhance back-of-house productivity and the guest experience in the front-of-house.  From banquet supplies to room service, Aethon robots automate the movement of goods securely and efficiently.  The AMRs securely deliver food, packages or personal items to guest rooms. Housekeeping staff relies on the AMRs to remove used room supplies and linens and replenish them with fresh supplies.  Banquet and event staff use the robots to haul large loads – up to 635kg. 

Learn more about Hospitality Robotics Solutions
ST Engineering Aethon, Inc.