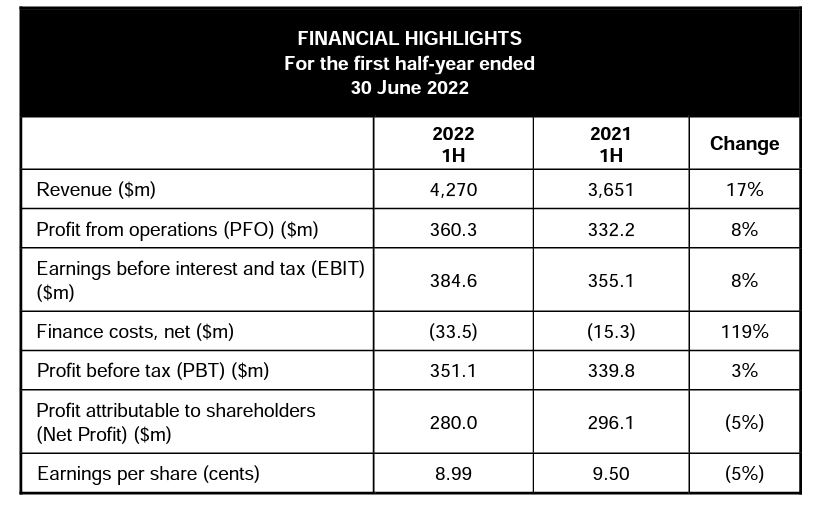 Order book was $22.2b as at end June 2022, of which about $4.6b is expected to be delivered in the remaining months of 2022
Commercial salesl and defence salesl constituted $2.8b and $1.5b respectively
Cash and cash equivalents of $533mN.B. All currencies are in Singapore dollars
ST Engineering 1H2022 Financial Statements, ST Engineering Results Presentation 1H2022
Singapore, 12 August 2022 – Singapore Technologies Engineering Ltd (ST Engineering) today reported its first half-year financial results ended 30 June 2022 (1H2022).
Group revenue in the first six months rose 17% year-on-year (y-o-y) to $4.27b from $3.65b, driven by higher contributions from all business segments. Group EBIT was $384.6m, up 8% y-o-y from $355.1m. This growth was despite a drop of $125m in government support2 and was a result of stronger operating performance, backed by cost savings, including a one-off pension restructuring effect at Commercial Aerospace. Group EBIT for base operating performance3 was 45% higher y-o-y at $333m. Group Profit before tax (PBT) rose 3% y-o-y to $351.1m from $339.8m. Group Profit attributable to shareholders (Net Profit) for 1H2022 was $280.0m. Excluding TransCore transaction and integration expenses of $16m (net of tax) and tax-exempt effect of JSS4 of $11m, Group Net Profit would have been $307m, 4% higher y-oy from $296m, driven by strong base operating performance and cost savings, which more than offset the substantial reduction in government support.
Business Segments: 1H2022 Revenue and EBIT
Commercial Aerospace: Revenue grew 24%, y-o-y from $1.14b to $1.40b as its Aerospace MRO and Aerostructure & Systems sub-segments posted higher revenues driven by increased MRO services and nacelles delivery. 1H2022 EBIT improved 78% y-o-y to $182.7m from $102.6m, helped by operational improvement and one-off pension restructuring effect, which more than offset the reduction of $86m in government support. Comparing 2Q2022 to the same period last year, Commercial Aerospace revenue grew 25% to $730m from $584m.
Urban Solutions & Satcom: Revenue rose 43% y-o-y to $757m from $528m in 1H2022 because of higher Smart City project deliveries, including contribution from TransCore, offset by lower revenue from Satcom which had an exceptionally strong 1H2021 and continued to be impacted by the global chip shortages. This business segment recorded an EBIT loss of $12.1m in 1H2022 as compared to an EBIT of $11.2m a year ago due to TransCore transaction and integration expenses of $21m, lower government support and the impact of global chip shortages.
Defence & Public Security: Revenue increased 6% y-o-y to $2.11b from $1.99b, contributed by Land Systems, Digital Systems & Cyber and Defence Aerospace which posted y-o-y growth of 7%, 8% and 12% respectively. Marine revenue dropped 1% y-o-y due to lower revenue from shipbuilding. Despite stronger operating performance, EBIT for this business segment declined 11% y-o-y to $214.0m from $241.3m impacted by the absence of $36m of government support it received in the prior year same period. Excluding government support received in 1H2021, EBIT would have been 5% higher y-o-y despite challenging conditions in the Marine business area, supply chain disruptions and higher energy costs.
"Despite a challenging operating environment in the first half of 2022, our businesses continued to demonstrate their underlying strengths and resilience. Year-on-year revenue growth and base business profitability, continued cost savings and productivity initiatives more than offset the substantial reduction of $125m in government support. The TransCore acquisition, which was completed in March this year will accelerate the Group's Smart City growth. Contract win momentum remains strong, and our robust order book provides healthy revenue visibility for the next few years."
– Vincent Chong, Group President & CEO
In the first half, commercial sales and defence sales accounted for $2.8b and $1.5b respectively of Group revenue. As at 30 June 2022, the Group held $533m in cash and cash equivalents.
New Contract Wins in 1H2022 and Order Book  
In May, the Group announced new contract wins of about $2.4b for 1Q2022.  In 2Q2022, it secured new contracts of about $3.1b, comprising $1.2b from Commercial Aerospace, $447m from Urban Solutions & Satcom and $1.4b from Defence & Public Security. This brings the total contract value secured for 1H2022 to $5.5b.
Commercial Aerospace clinched new contracts across a spectrum of its aviation manufacturing and MRO businesses. These include passenger-to-freighter (P2F) conversion orders for A330P2F and A321P2F units, an agreement to provide additional airframe heavy maintenance support for United Airlines' narrowbody aircraft, a five-year agreement with Safran Aircraft Engines to provide engine maintenance offload5 for the CFM56-5B and -7B engines, and several component maintenance-by-the-hour extension contracts from regional airlines.
Urban Solutions & Satcom secured contracts from global customers across its business segments. New wins from Urban Solutions include rail electronics contracts for metro lines in Singapore, Taiwan and the Middle East; its first Integrated Traffic Management Platform in Thailand; and electronic tolling projects comprising services and system upgrades, and RFID tag sales. Smart utilities and smart security contracts secured include smart lighting control solutions in Brazil and New Zealand, as well as integrated smart security management solutions for customers in Singapore. Satcom secured contracts across the broadband, enterprise, maritime and government & defence segments. These include a network expansion contract with satellite operator MEASAT to enhance connectivity services across Malaysia, as well as a contract with a leading satellite operator to boost capacity on its new GEO HTS satellite.
On Defence & Public Security, the Digital Systems and Cyber business secured contracts for its range of digital solutions and services for AI-enabled Mission Critical Command and Control systems, cybersecurity products and cloud managed services. These include the development of the largest Southeast Asian hybrid multi cloud on Nutanix cloud infrastructure and the sales of WiZ-Knight, an ultrasmall IP encryptor developed in-house by Digital Systems. Marine secured several contracts for ship repair in Singapore, and Land Systems secured new orders for munitions from international customers and commercial specialty vehicles in the U.S.
These new contracts less revenue delivery in the first half, brought the Group's order book to a robust level of $22.2b as at 30 June 2022.  The Group expects to deliver about $4.6b from the order book in the remaining months of 2022.
Interim Dividend 
The Board of Directors has approved a second interim dividend of 4 cents per share. Shareholders will receive the payment on 2 September 2022.
*****
For media enquiries, please write to us at ir@stengg.com
1 Refers to Group revenue by products and services type.
2 Refers to COVID-19 related government support only (1H2022: $0.5m; 1H2021: $125m).
3 Excludes government support, TransCore transaction and integration expenses, and one-time pension restructuring effect.
4 Refers to Job Support Scheme, which is not taxable.
5 Offload service is provided when an MRO shop helps to take on work from another due to the latter's limited capacity when demand spikes.